Orenburg State Agrarian University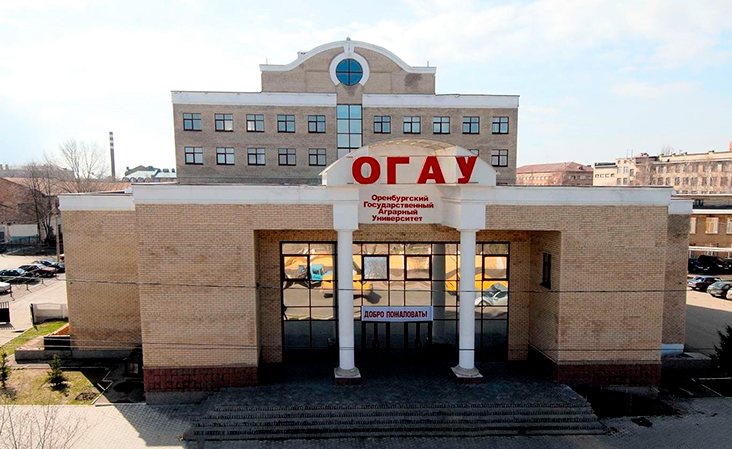 MBBS in Russia | MBBS in Ukraine | Study in Russia | Study in Ukraine | About Russia | About Ukraine | Top Medical Universities of Russia | Top Medical Universities of Ukraine | Consultants for MBBS in Russia | Consultants for MBBS in Ukraine | Study MBBS in Russia | Study MBBS in Ukraine | MBBS in Russia in English | MBBS in Ukraine in English | Best Universities for MBBS in Russia | Best Universities for MBBS in Ukraine | Study MBBS in Russia in English | Study MBBS in Ukraine in English | Admission 2019 2020 in Russia | Admission 2019 2020 in Ukraine | Study Abroad | MBBS Abroad | Study MBBS Abroad | EdugainOverseas | Higher Education in Russia | Higher Education in Ukraine | Top Engineering Technical Universities in Russia | Top Engineering Technical Universities in Ukraine | Medical Courses in Russia | Medical Courses in Ukraine | Engineering Courses in Russia | Engineering Courses in Ukraine | Economics Courses in Russia | Economics Courses in Ukraine | Aviation Courses in Russia | Aviation Courses in Ukraine | PG in Medicine Clinical Residency in Russia | PG in Medicine Clinical Residency in Ukraine | PG PHD Courses in Russia | PG PHD Courses in Ukraine | Admission Process in Russia | Admission Process in Ukraine | Postgraduate Education in Russia | Postgraduate Education in Ukraine | Apply Online in Russia | Apply Online in Ukraine | Tuition Fee on Education in Russia | Tuition Fee on Education in Ukraine | Reason to Study in Russia | Reason to Study in Ukraine | Living in Russia | Living in Ukraine | Living Abroad | Cities of Russia | Cities of Ukraine | Accommodation and Hostels in Russia | Accommodation and Hostels in Ukraine | Top Aviation Universities of Russia | Top Aviation Universities of Ukraine | Top Economics Universities of Russia | Top Economics Universities of Ukraine | Visa and Immigration in Russia | Visa and Immigration in Ukraine | Airport Pickup in Russia | Airport Pickup in Ukraine | Arrival in Russia | Arrival in Ukraine | Representatives in Russia | Representatives in Ukraine | English Courses in Russia | English Courses in Ukraine | Why Russia | Why Ukraine | Why Choose Russia | Why Choose Ukraine | Popular Universities of Russia | Popular Universities of Ukraine | Dagestan State Medical University | DSMU
ABOUT UNIVERSITY
FACULTIES
ACCOMMODATION
ABOUT THE CITY
ABOUT UNIVERSITY
The Federal State Budget Educational Institution of Higher Education «Orenburg State Agrarian University» is a modern institution of higher education that provides training of highly qualified specialists in engineering, agronomy, veterinary, forestry, management, information technology, law and other professions. It was founded in 1930.
The educational process is provided by 7 faculties, 3 institutes, and 5 branches. Selection of entrants and their vocational guidance are conducted through the implementation of the program «Agroclasses of the Orenburg region», Centers for Pre-University Training (CPD), Association of Educational Institutions for Continuous Agricultural Education, which includes 30 educational institutions of various levels (vocational schools, colleges, technical schools, universities).
FACULTIES
List of Faculties:
Faculty of Engineering
Faculty of agricultural technology, land management, and food production
Faculty of Biotechnology and Nature Management
Faculty of Veterinary Medicine
Faculty of secondary vocational education
Economic Faculty
Law Faculty
ACCOMMODATION
Today Orenburg State Agrarian University is not only teaching, scientific activity but student life. As they say, "who didn't live in the dormitory, was not a student." The University has on its balance 4 dormitories located in campus. The total number of places for students is 1705. Students live in rooms for two, three men under sanitary standards (6 m2 per 1 student).
In the dorms, there are all conditions for students to feel like at home. Rooms are equipped with necessary furniture: beds, tables and chairs. Each dorm lobby is a comfortable, cozy kitchen, sanitary facilities, and rooms.
On the campus, there are a dining room, a sanatorium, sports facilities, and a student disco. On the campus there is a local computer network with Internet access.
ABOUT THE CITY
Orenburg is a city in the south of the Urals in Russia, the capital of the Orenburg region. The city stands on the Ural (former Yaik) River, near the mouth of the Sakmara River, 1458 km south-east of Moscow. The unofficial name of Orenburg is the "Asian capital" of Russia.
Orenburg features
Orenburg main industries are natural gas extracting, oil processing, machine-building and light industries.
On a pedestrian bridge across the Ural River there is a symbolic sign — a border between Europe and Asia. But this border is defined in different ways in various sources.
There is an international airport, Orenburg-Central named after Gagarin (IATA: REN, ICAO: UWOO), located 19 km east of the city. Flights to Moscow, St. Petersburg, Chelyabinsk, Samara, Kazan, Ufa, Yekaterinburg are available.
Today, Orenburg has more than 30 hotels. The four-star hotels: business-hotel "Rostoshi", "La Vie de Chateau", "Steppe Palmira," "Don Quixote", "Orenburg", "Fakel". The three-star hotels: "Armada Comfort Hotel", hotel "Rostoshi", "Mia", "Breeze", "Victoria", "Yuzhniye Vorota", "Niva".