Kabardino-Balkaria State Agrarian University named after V.M. Kokova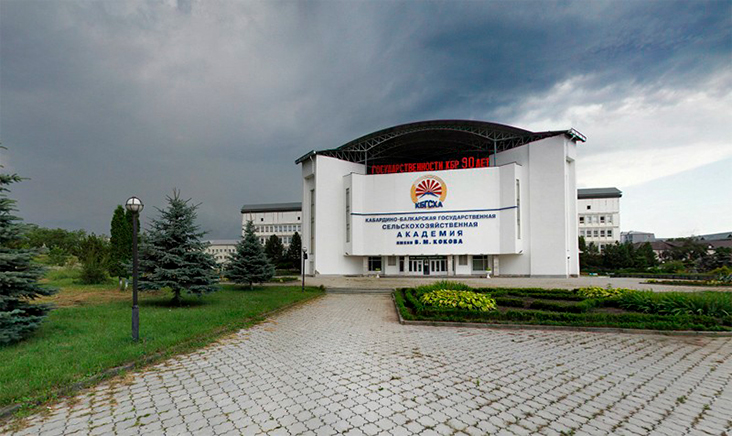 in Russia | MBBS in Ukraine | Study in Russia | Study in Ukraine | About Russia | About Ukraine | Top Medical Universities of Russia | Top Medical Universities of Ukraine | Consultants for MBBS in Russia | Consultants for MBBS in Ukraine | Study MBBS in Russia | Study MBBS in Ukraine | MBBS in Russia in English | MBBS in Ukraine in English | Best Universities for MBBS in Russia | Best Universities for MBBS in Ukraine | Study MBBS in Russia in English | Study MBBS in Ukraine in English | Admission 2019 2020 in Russia | Admission 2019 2020 in Ukraine | Study Abroad | MBBS Abroad | Study MBBS Abroad | EdugainOverseas | Higher Education in Russia | Higher Education in Ukraine | Top Engineering Technical Universities in Russia | Top Engineering Technical Universities in Ukraine | Medical Courses in Russia | Medical Courses in Ukraine | Engineering Courses in Russia | Engineering Courses in Ukraine | Economics Courses in Russia | Economics Courses in Ukraine | Aviation Courses in Russia | Aviation Courses in Ukraine | PG in Medicine Clinical Residency in Russia | PG in Medicine Clinical Residency in Ukraine | PG PHD Courses in Russia | PG PHD Courses in Ukraine | Admission Process in Russia | Admission Process in Ukraine | Postgraduate Education in Russia | Postgraduate Education in Ukraine | Apply Online in Russia | Apply Online in Ukraine | Tuition Fee on Education in Russia | Tuition Fee on Education in Ukraine | Reason to Study in Russia | Reason to Study in Ukraine | Living in Russia | Living in Ukraine | Living Abroad | Cities of Russia | Cities of Ukraine | Accommodation and Hostels in Russia | Accommodation and Hostels in Ukraine | Top Aviation Universities of Russia | Top Aviation Universities of Ukraine | Top Economics Universities of Russia | Top Economics Universities of Ukraine | Visa and Immigration in Russia | Visa and Immigration in Ukraine | Airport Pickup in Russia | Airport Pickup in Ukraine | Arrival in Russia | Arrival in Ukraine | Representatives in Russia | Representatives in Ukraine | English Courses in Russia | English Courses in Ukraine | Why Russia | Why Ukraine | Why Choose Russia | Why Choose Ukraine | Popular Universities of Russia | Popular Universities of Ukraine | Zaporozhye Medical Academy | ZMA
ABOUT UNIVERSITY
FACULTIES
ACCOMMODATION
ABOUT THE CITY
ABOUT UNIVERSITY
Kabardino-Balkaria State Agrarian University named after V.M. Kokova is one of the largest agricultural universities of the North Caucasus.
Kabardino-Balkaria State Agrarian University was formed in 1981.
The University has 59 programs of higher professional education, 16 directions of master's training, 9 programs of secondary vocational education.
The teaching staff consists of 457 teachers, including 76 doctors of science, 72 professors, 294 candidates of sciences, 230 associate professors working in 42 departments. The university employs 47 employees who hold the honorary title of federal and regional importance.
FACULTIES
Faculties:
Faculty of Agribusiness and Land Management
Faculty of Veterinary Medicine and Biotechnology
Faculty of Mechanization and Energy Supply
Faculty of Conservation and Water Construction
Faculty of Food Manufacturing Technology
Faculty of Trade and Commerce
ACCOMMODATION
Kabardino-Balkarian State Agrarian University has a well-organized sports ground within the campus. Also, there is a wide choice of activities you can get engaged to: physical and intellectual competitions, vocal and music contests, beauty contests, and other numerous entertainments. Broad international activity of the university provides an opportunity not only to learn foreign languages but also to take part in various internship programs in France, Germany, India, China, Mongolia, and Korea. Foreign students will be provided with all the living needs — a modern new hostel within the campus. Rooms in the hostel are constructed for 2 or 3 people and equipped with separate kitchen, bathroom, balcony, and all other necessities.
ABOUT THE CITY
Nalchik is the capital city of the Kabardino-Balkar Republic, Russia. The word «Nalchik» literally means «small horseshoe» in Kabardian. Nalchik is a balneological and mountain climatotherapy resort, with several sanatoriums. It also serves as an industrial center of the republic. The city is home to various facilities of higher education. The city has 3 amusement parks, 6 artificial lakes, 4 aerial lift roads, mineral springs, a huge park (one of the largest in Europe), which transforms into a forest, a zoo, and a hippodrome. The picturesque mountains around are favorable for camping, in particular for hiking and mountaineering. On the Malaya Kizilovka Mt, opposite to the resort part of the city, there are the Sosruko restaurant complex and observation platforms with an overview of the city, its closest and distant surroundings, and mountain ranges.